Art-o-mat in Atkins

What is an Art-o-mat?
The Art-o-Mat is a series of vintage cigarette vending machines refurbished by North Carolinian artist Clark Whittington. In place of cigarette boxes or tobacco, the artist rebuilds these machines to instead hold small pieces of art. Items range from small watercolor paintings to handmade earrings. The interest in bringing an Art-o-Mat to the UNC Charlotte campus is primarily to bring accessible and interactive art to the general public and the college community. Generated profits from the Art-o-Mat will go to support the Department of Art & Art History. This partnership between Atkins Library, the Department of Art & Art History, the Levine Scholars Program, and Clark Whittington is the product of a senior civic engagement project completed by art major and Levine Scholar Danielle Walden (Class of '22).
Visit www.artomat.org for more information.
Art-o-Mat Mission
The mission of Art-o-Mat is to encourage art consumption by expanding access to artists' work. They create an opportunity to purchase original artwork while providing exposure and promotional support for artists. These converted vending machines combine art and commerce in an innovative form.
Adapted from the mission statement at Art-o-mat®
Directions
See the directions listed below for using the art vending machine.
HOW TO USE
Go to the Information & Research Desk and ask to purchase an Art-o-Mat Token for $5.

Take token and deposit it into the Art-o-Mat machine

Make a selection of art according to the small preview cards.

In one motion, firmly pull the knob underneath the corresponding column until it's fully extended and you hear the art vend.

Gently guide the knob back to it's original position.

If the knob doesn't pull, the column is likely empty of art. Choose a different column and try again.

If the knob gets stuck out of its original position, a piece of art is likely jammed. Please notify the Information & Research Desk attendant.

Retrieve the art from the dispenser.

You are now the owner of an original piece of artwork!
Email ninerartomat@gmail.com for any comments or inquiries.
Browse All Images & Videos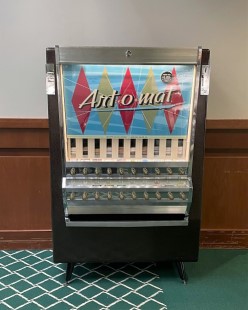 Art-o-Mat